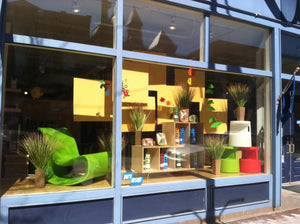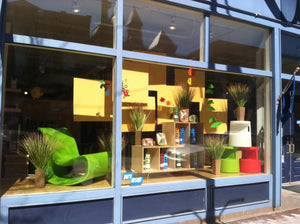 Once upon a time, in a land called Canada, there was a team of three industrial designers. Geoffrey Lilge, Randy McCoy, and Daniel Hlus came together because of their mutual love and respect for design. In 1994, they founded Pure Design and produced their first product - a metal CD rack - by hand. Their goal was "to create a diversely unique collection of products that challenged traditional furniture categories and created new ones." That philosophy lies within the individuality of their designs. In just three years, they were overseeing 30 employees and a line of more than 75 home accessories. In 2001, Pure Design was awarded the prestigious Editor's Award at the International Contemporary Furniture Fair, and also had their line placed into the Alumni Horizon Awards. Pure Design products have been featured in music videos, movies, and on television shows.

Geoffrey left the team in 2002, and in 2005 Randy and Daniel sold the production & distribution segment of Pure Design. Currently, Geoffrey is a partner at On Our Table, Randy operates Retrofit Design, and Daniel runs River City Metalworks. All still work and reside in Canada.

Though Pure Design is now a retail operation, and therefore relies on others for production, we have retained the objective of the original partnership: we strive to offer our customers a broad range of functional designs with integrity. Pure Design was the first official "Authorized Offi Partner" but we now provide access to products from such esteemed designers as Sandy Chilewich, Eric Pfeiffer, and Lisa Albin, as well as design-based companies like Herman Miller, De La Espada, Vitra, black + blum, Flensted Mobiles, and Uglydolls. Since 2006, our brick-and-mortar location in Corning, NY has been proud to present the Finger Lakes Region with products we consider to be of "Pure Design pedigree."

In 2012, Pure Design owner Barry Nicholson was awarded the Chamber of Commerce's Emerging Business Award.
Supporting: Southern Fingers Lake